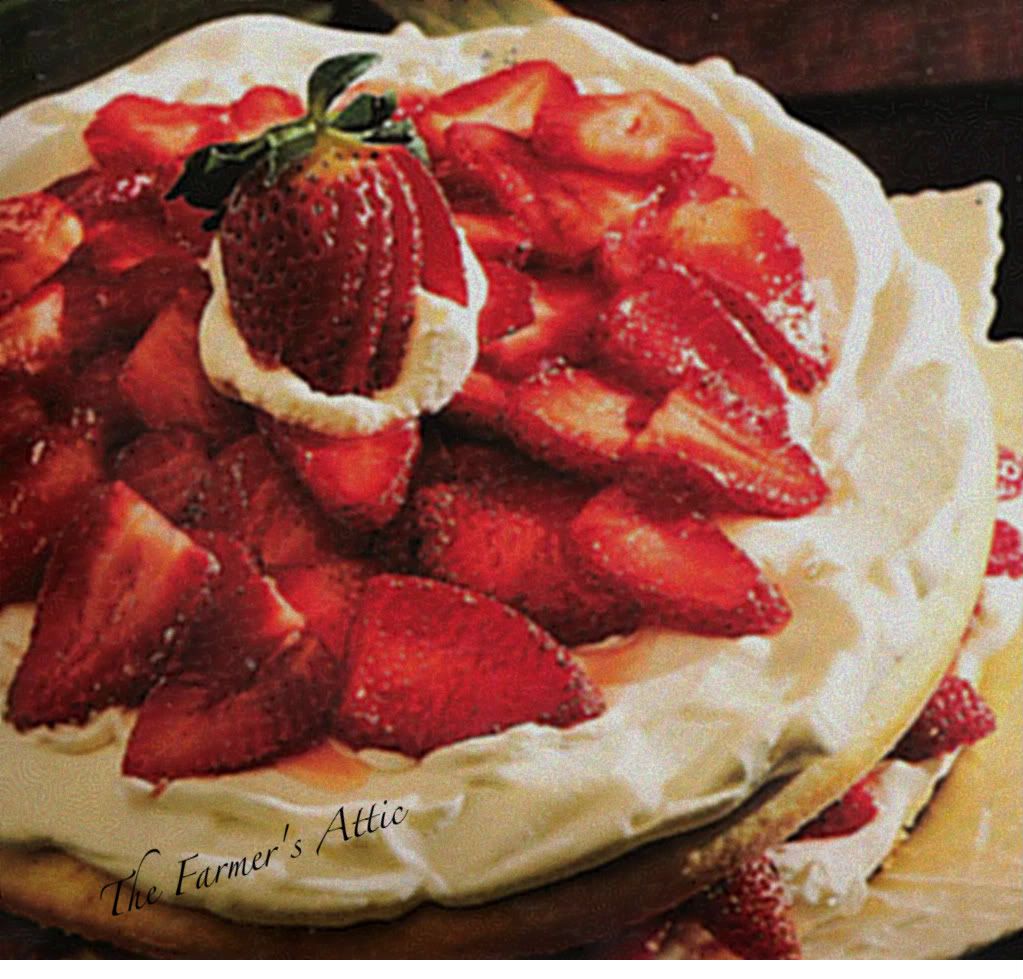 Ingredients:
4 cups sliced fresh strawberries
1/4 cup sugar
Vegetable cooking spray
1/4 cup margarine, softened
1/3 cup sugar
1 large egg, separated
1 3/4 cups all-purpose flour
1 1/2 teaspoons baking powder
1/4 teaspoon salt
3/4 cup skim milk
1/2 teaspoon vanilla extract
1 egg white
2 tablespoons sugar
1 1/2 cups thawed, reduced-calorie frozen whipped topping
Garnish: Strawberry fan
Combine strawberries and 1/4 cup sugar; cover and refrigerate 2 to 3 hours, stirring occasionally.
Coat a 9-inch round cakepan with vegetable cooking spray; dust with flour, and set prepared pan aside.
Beat margarine at medium speed with an electric mixer until soft, gradually add 1/3 cup sugar, beating well. Add egg yolk, beating just until blended. Combine flour, baking powder, and salt in a small bowl; add dry ingredients to creamed mixture alternately with milk, beginning and ending with flour mixture. Mix after each addition. Stir in vanilla.
Beat egg whites until foamy. Gradually add 2 tablespoons sugar, one at a time, beating until stiff peaks form. Stir about 1/2 cup beaten egg whites into batter; fold in remaining egg whites. Spoon batter into prepared pan. Bake at 350 degrees for 30 minutes or until a wood pick inserted in center comes out clean. Let cool in pan on a wire rack 10 minutes. Remove cake from pan; let cool completely on a wire rack.
Slice shortcake in half horizontally. Place bottom half, cut side up, on a serving plate. Drain strawberries, reserving juice, and drizzle half of juice over bottom layer. Set aside 1 tablespoon whipped topping, spread 3/4 cup whipped topping over cake layer, and arrange half of strawberries over topping. Top with remaining cake layer, cut side down, and repeat procedure. Dollop with reserved 1 tablespoon whipped topping; garnish with strawberry fan.